CONFIDENTIALITY, SECURITY AND PRIVACY POLICIES of The Reference Company
Effective Date:  01/01/2014
Introduction
The Reference Company (TRC) is a credentialing and pre-employment screening company dedicated to obtain professional background and credentialing related information on behalf of third parties. The purpose of this policy is to establish procedures for secure handling of confidential and private information.
Consumer Reporting Agency
The Reference Company qualifies us as a Consumer Reporting Agency (CRA) and is under the jurisdiction of the Fair Credit Reporting Act (FCRA). The FCRA is designed to promote fairness towards the individual, as well as accuracy and privacy of the information collected and transmitted. Information is only transmitted to parties having a legitimate need to know.
Confidentiality & Security Policy
SCOPE: 
This policy and procedures apply to:
All permanent and temporary employees of TRC
Applicant
All auditing personnel from US government agencies
Authorized clients requesting the verifications
POLICY:
The security of your personal information is important to us. The Reference Company has established procedures for handling pre-employment and credentialing checks (both paper and electronic) that ensures the confidentiality of information for the applicant, the client, and The Reference Company.
Authorization: The information in the applicant's credentials and background files are not altered and will not be shared or released without an authorization from the applicant unless otherwise authorized by law. The Reference Company will secure from the applicant a signed release of information authorization. The release is intended to inform the applicant that a background investigation will be conducted and its results could be entirely used in the credentialing and employment decision. Subsequently if the information obtained is used to deny the applicant the position, the said applicant will have the right to dispute the accuracy of the information, and have access to his/her file with The Reference Company.
Applicant Information: The Reference Company will secure and keep confidential any information relating to an applicant, submitted by that applicant or other organizations, i.e., information found on an application, accompanying documents, verifications of the information contained on the application, sanctions/disciplinary action from identified, specific primary sources of verified information. The applicant's credentials and background file may contain: education; training; licensure; references; employment; affiliations; malpractice; sanctions; National Practitioner Data Base; releases and attestations; and correspondence with the applicant concerning the credentialing or background check process.
Breach of Confidence: A breach of this policy and procedure by any of the personnel listed above would include but is not limited to the intentional release or exchange or any oral, written, or electronic information to any person/group/agency not directly involved in the work related to the areas in this policy. Any person found to violate this policy would be subject to immediate disciplinary action and/or dismissal.
Confidentiality Statement: All personnel from The Reference Company will receive a copy of this policy and be requested to sign an agreement to keep all information confidential (Attachment 1). Anyone who has a contractual relationship with The Reference Company is required to sign a nondisclosure form (Attachment 2).
Location and Security Precautions: All credentials and background files (paper and electronic) shall be maintained under the custody of the Chief Operating Officer. Electronic files will be maintained in i-TRIMS, The Reference Information Management System. The Chief Operating Officer shall maintain the administrative responsibility for overseeing access to this information. All electronic information shall have limited access through the use of passwords. Back-ups of the electronic database are performed on a regular basis.
Website Security: Data submitted to or retrieved from The Reference Company's website (www.referencecompany.com) is subject to the confidential, security and privacy policies and procedures.   When you enter sensitive information (such as your social security number) on our release of information authorization form we encrypt that information using secure socket layer technology (SSL). We follow generally accepted industry standards and security measures to protect the information submitted to The Reference Company.
Current SSL Certification Status: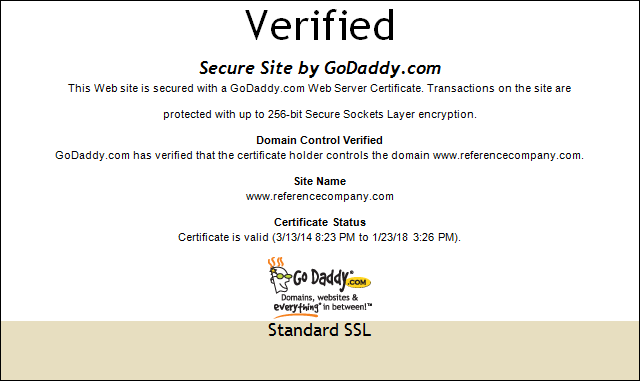 Access: Access to credentialing and background information shall be allowed, to the extent necessary to perform normal job responsibilities or to prepare documentation and reports to:
The Reference Company personnel
Entities having a contractual relationship with The Reference Company to perform credentialing and background verifications.
Access by individual Applicants shall be allowed for the following:
In the event that the applicant is denied a position entirely or partly based on information obtained by The Reference Company, the applicant has the right to make a request to The Reference Company to inquire about the information supplied to the prospective employer.
If the applicant disagrees with the inclusion of an item of information in his/her file, or wishes to correct erroneous information, he/she may request in writing an amendment to add a document or statement to the file.
Security Compliance: All credentialing and background information, in paper form or electronic, is contained in a locked office. All credentialing and background files are maintained in a secure database that is password protected and can only be viewed by The Reference Company personnel and the clients requesting the information. All reports, background checks and credentialing documents containing specific applicant information will be shredded when and if deemed legally unnecessary to keep.
Privacy Policy
SCOPE:                       
This policy and procedures apply to our website and database as used by:
All permanent and temporary employees of TRC
Applicant
All auditing personnel from US government agencies
Authorized clients requesting the verifications
POLICY:
Database: The Reference Company does not maintain a commercial database of applicants and client information.   We do not sell or lease any personal client information that we have collected to anyone. The Reference Company employees are not allowed to browse databases or files without business justification.
Personal Information: The Reference Company may share personal information in good faith, with our service providers who perform services on our behalf. This personal information includes name, address, phone numbers, email address, social security number, date of birth, and/ or additional names. We do not authorize those service providers to use the information except as needed to perform verification services that we have requested.
Secure Links: The Reference Company communicates private information to clients, verification sources, and references on secure links with additional care, such as truncated social security numbers, date of birth, etc., when possible.
Secure Network: The Reference Company maintains a secure network and electronic backup system. Access to our offices, desks, computers and trash bins are secure from unauthorized access.
Links to Other Websites: The Reference Company website includes links to other businesses. We are not responsible for the privacy practices or the content of those other business websites.
Policy Modifications:
We reserve the right to modify this Policy at any time. We will place the new policy on our website. Please feel free to direct any questions or concerns regarding these Policies to mailbox@referencecompany.com.